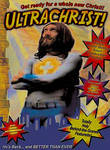 I was cruising Netflix - the "Watch it Now" section to be exact - and I pulled up "Action and Adventure", then the subcategory "Superheroes and Comic Books".
This was among the offerings.
I haven't actually watched it, but here's the movie description:
"What would Jesus (Jonathan C. Green) do if he returned to Earth and discovered he was wildly out of touch with modern trends? Don a Spandex costume and fight sin on the streets of New York City, of course! But as always, he faces several obstacles: a disapproving Father (Don Creech); the Antichrist, in the guise of the New York City Parks Commissioner (Samuel Bruce Campbell); and the temptations of a beautiful seamstress (Celia A. Montgomery)."
Sounds pretty freakin' awesome, right? At the very least, this could make my favorite awful movies of all time list! You know, right up there with stuff like
Water World
and
Godzilla v. Space Godzilla
. (Both of which are truly amazing in a train wreck sort of way.)
The top rated customer review begins, "I'd basically describe this as good-natured blasphemy". My other favorite comments are (in order of appearance on NetFlix)...
The low budget enhances rather than detracts from the hilarity.
You know, overall this film is not bad. Cheesy? Yes. Funny? Yes. Religiously absurd? H--- yeah.
...if you want to see blasphemy that is in good taste (if that even makes sense), then you can safely watch this.
I found Ultrachrist to be a laugh out loud good time. ...and it wasn't even that blasphemous.
If you dig Mel Brooks and Howard Stern, this film is up your alley. Funny thing though, you gotta know some religion to get the jokes.
Then I read this comment: "If you laugh at the trailer for this movie, you'll laugh at the movie." So, being the good YouTube-r that I am, I zipped over to watch the trailer.
...um. ... ... ... Yeah.
So, the Red Wings won today. 2-0. And did you SEE those weird powder blue Penguin uniforms? What was up with those?